Particle Paradox
Regular price

Sale price

$32.00
Gillian worked with Ben a quantum science researcher from the ARC Centre of Excellence for Engineered Quantum Systems. After discussing the weird world of quantum mechanics, Gillian was inspired to illustrate the transition between the classical and the quantum worlds. Together they wanted to communicate that the quantum scale is not magic, it just doesn't follow the classical rules we are used to.
For Gillian, this inspiration began with the centerpiece of the illustration - the dilution refrigerator. This tangible, beautifully constructed machine is immensely significant in quantum experiments and allows scientists to work with temperatures slightly above absolute zero (-273.15
°
C).
Around its plates, Gillian represented two major concepts in quantum mechanics, which seem to contradict our everyday picture of reality.
Quantum entanglement and the phenomenon that a particle's aspects or state, shown at the top and bottom of the illustration, depend on the aspects of a particle's pair regardless of the space and distance between them.
And wave-particle duality - the concept that light and matter can sometimes behave as both waves and particles, illustrated in the tides of colour and resulting interference patterns flowing from the plates of the refrigerator.
THE SCIENCE | BEN MC ALLISTER
THE ART | GILLIAN BOWEN-JOHNSTON
Share
Particle Paradox was created with support from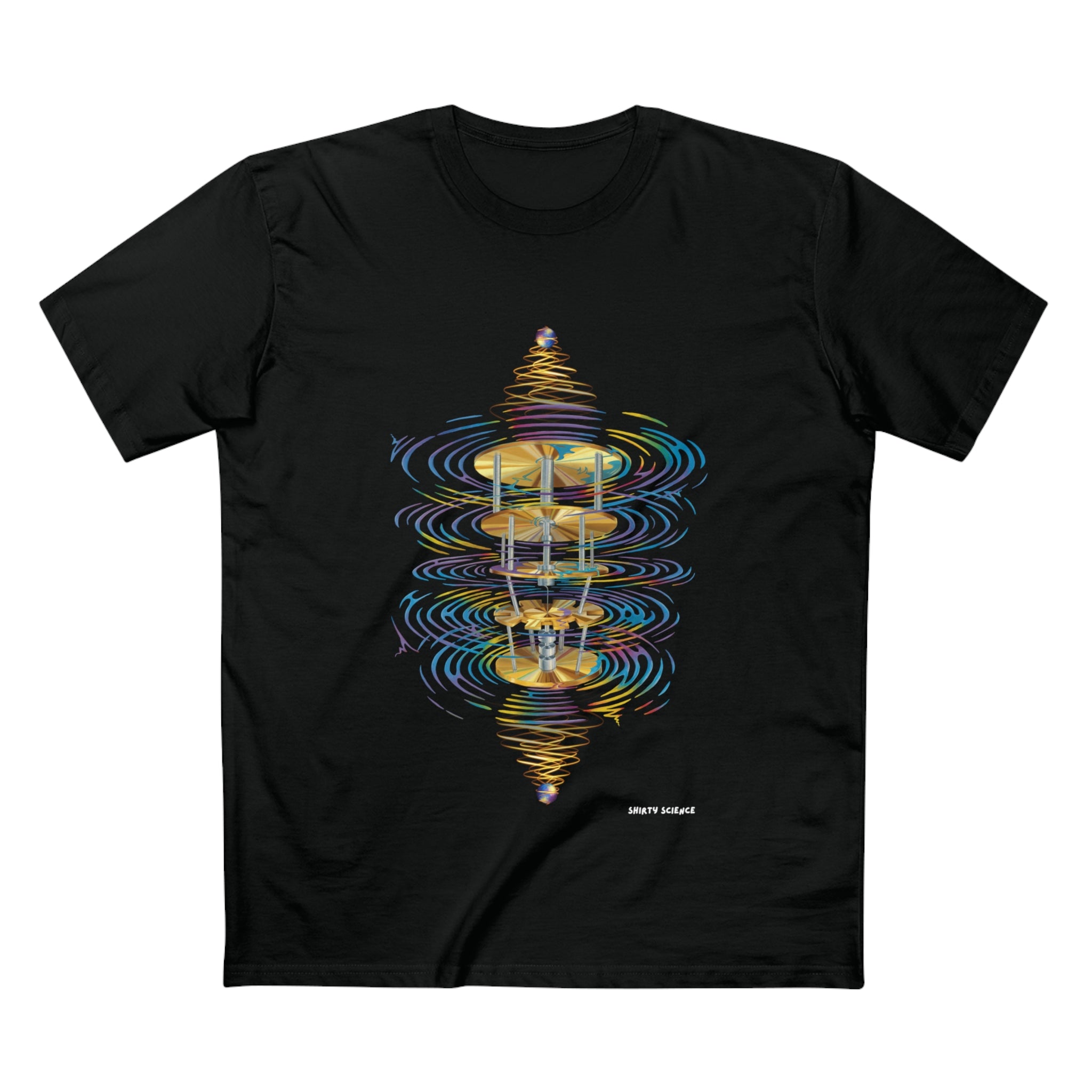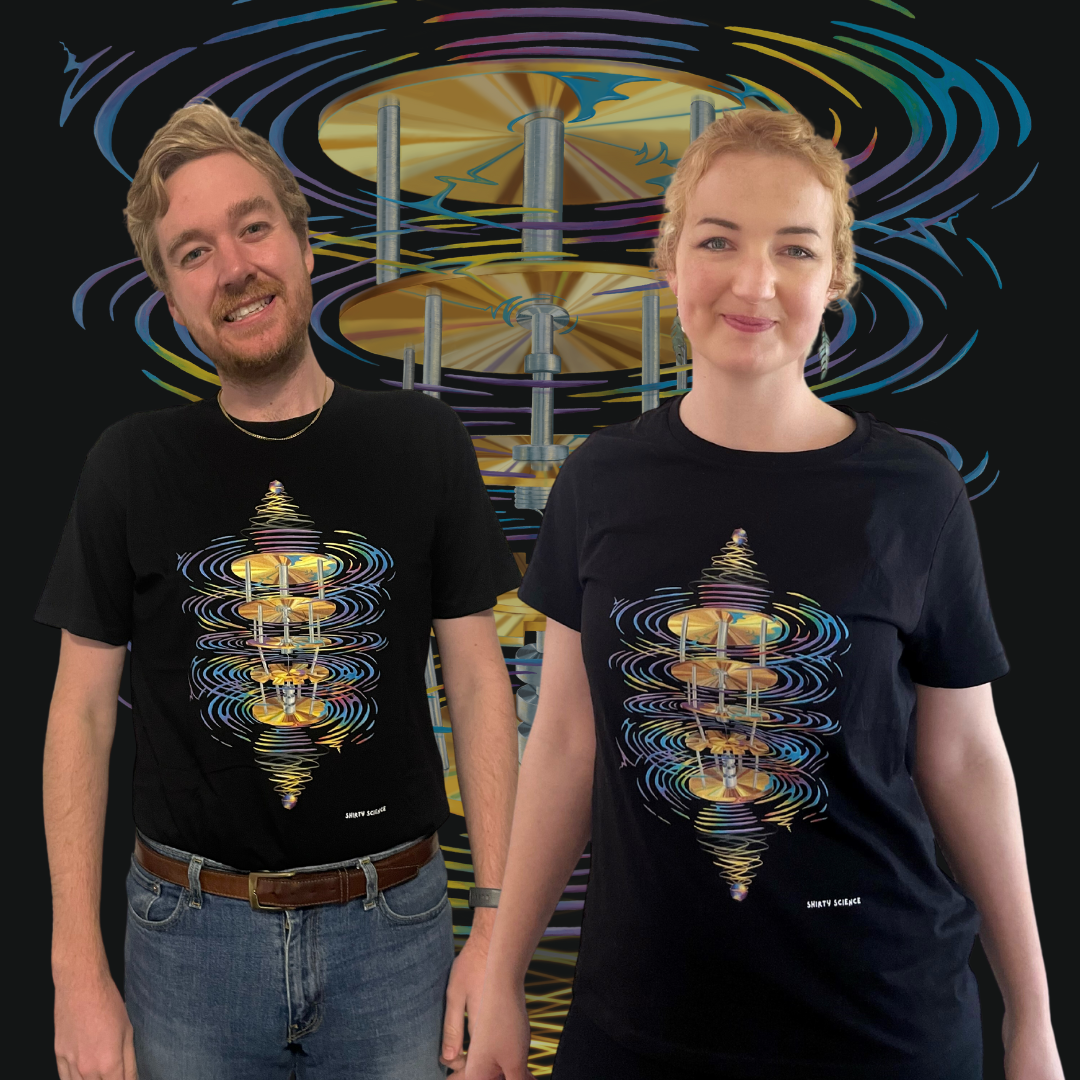 Size Chart
REGULAR 
Our regular style is a traditionally 'masculine' fit to accommodate broad shoulders and narrower hips. It is a little longer in length and is available in sizes S – 5XL.
| | S | M | L | XL | 2XL | 3XL | 4XL | 5XL |
| --- | --- | --- | --- | --- | --- | --- | --- | --- |
| Width, cm | 47.00 | 52.10 | 56.50 | 61.00 | 64.50 | 67.90 | 75.00 | 80.00 |
| Length, cm | 71.10 | 74.90 | 78.70 | 79.40 | 83.80 | 84.40 | 87.00 | 89.00 |
MAPLE
Our maple style is a traditionally 'feminine' fit to accommodate narrower shoulders and wider bust and hips. It is a slightly shorter fit and is available in sizes XS – 2XL. 
|   | XS | S | M | L | XL | 2XL |
| --- | --- | --- | --- | --- | --- | --- |
| Width, cm | 44.50 | 48.00 | 50.50 | 53.00 | 55.50 | 58.00 |
| Length, cm | 63.50 | 64.50 | 65.50 | 66.50 | 67.50 | 68.50 |
OUR SHIRTS

We produce high quality shirts so you can wear them everyday and spark all of those science-ey conversations.

Our shirts are made from a mid weight, 180 GSM, 100% combed cotton (aka a great shirt). They are also preshrunk to minimise shrinkage (phew).

Shirts are sourced through AS Colour as they have high quality products and transparent ethical processes, see here.

To minimise our enviromental impact our shirts are printed on demand with water-based inks and are shipped in home-compostable packaging (yay compost!).

SHIPPING & RETURNS

All shirts are printed and shipped from Melbourne within 14 days of ordering.

Aus/ NZ Shipping: $10

Everywhere else: $20

You can return your shirt up to 30 days after purchase. Simply send the product back to us in the condition it was received for a new size or store credit.

Sometimes mistakes happen so if your shirt isn't what you expected let us know and we can send you the right shirt.

Click for more information about shipping.

Click for more information about returns.

OUR CHANGE MAKERS

Shirty Science wants to change the world one shirt at a time.

We use our profits to help organisations that are supporting diversity in STEM. We do this the only way we know how – making shirts!

You can see all our Change Maker shirts here. All profits from the sale of these shirts go directly to the organisation the shirt is about.

Are you part of a Change Maker organisation? Would you like a shirt? Let us know here.